Posted on
Spring is really here isn't it? A little hard to imagine, winter just zipped on past and here we are… entering a time of transition with both Spring, and the beginning of a series of eclipses.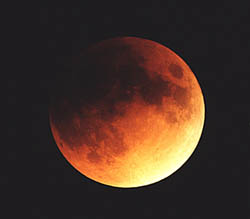 The last time this tetrad of total eclipses happened was in 2003/4. Eclipse energies are significant for making big changes. Its a perfect time for transformational work, as the energies of heavens and earth support the shift. What were you doing in 2003/4 and did your life have a significant shift at that time?
Mine sure did! That is when my career path of providing healing support went to a whole new level, getting trained with breathwork and energy work, starting me on a whole new trajectory of passion and career. It's also when I met my life partner, after doing some deep transformational healing work (I met him the same day as a big healing breathwork session clearing out old unconscious energy on relationships!) This time has big potential!!
I'd love to support YOU with whatever changes you'd like to have happen at this time in your life! Since the first total lunar eclipse is coming up the night of Monday April 15, now is a good time to begin addressing what it is YOU want to change in your life! I am here to help, come in for a session!
The next big series of total eclipses doesn't happen again til 2032 – so don't wait- the energies of the universe are extra supportive, seize the moment!
A great way to support yourself during this time of changes is to come in for some inner work at Creating from Within – Intuitive Painting and Breathwork, happening April 25-27, 2014 in Sebastopol, CA. Join us for this special experience of inner exploration and creative flow in group format.
The next eclipses in the tetrad:
April 29: Annular Solar Eclipse
October 8: Full Lunar Eclipse
October 23: Partial Solar Eclipse.
Happy Spring!