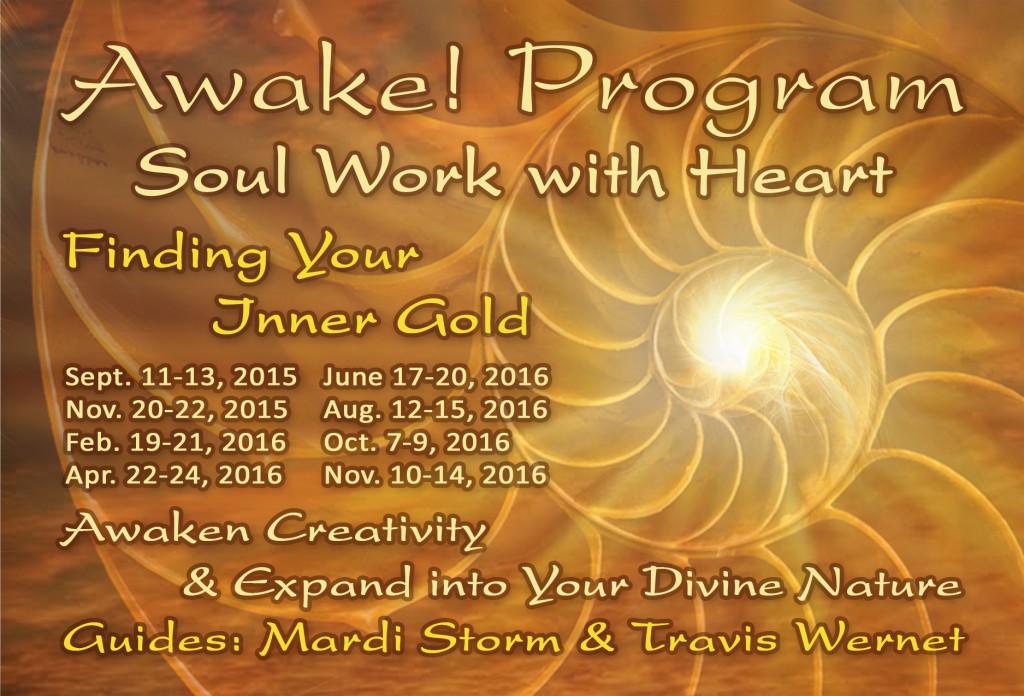 The Awaken To Your Deeper Self Personal Growth & Training Program is a series of workshops for diving in deep to what makes you tick, allowing you to pull back layers to discover who you truly are underneath circumstance, family, and past choices.
As we trace back in time uncovering moments of healing, we often find the gift next to the wound. This program supports you to not only find your gifts but to create your offering to the world and community from a place of deep authenticity and inspiration. Learn your purpose for being here and what brings you great joy. Are you ready to transform yourself and your life? This program also provides a foundation for training to become a practitioner of the healing arts. The skills and knowledge can be applied to many helping modalities, from therapists to counselors, energy workers, hospice workers and more, in addition to training you to become a professional Awake! Breathworker, Soul Painting facilitator, or Dream Worker.
Experience profound openings to your deep feelings, shifts in relationships, increasing health & vitality, discover greater self-love, compassion, higher purpose and deep belonging. Through soul work we have increasing awareness of personal, ancestral & collective histories, shadow work and integration, we can heal depression, anxiety, limitations, and become present to our deeper natures, choosing truly creative pathways to life.
Click on the workshop title for an overview on that workshop.
Module 1: Sept. 11-13, 2015   Revisioning Primal Inheritances: the Forming of our Perspectives
Module 2: Nov. 20-22, 2015   Becoming Innocent Again: Healing Our Histories
Module 3: Feb. 19-21, 2016    Recollection of the Soul: the Dark and Bright Shadow
Module 4: Apr. 22-24, 2016    Sharing the Journey: Honoring the Star that Guides Us
Module 5: June 17-19, 2016    Finding the Inner Calm: Flowing with Our Intuition
Module 6: Aug. 12-15, 2016    Walking with Spirits: Working with the Subtle Realms
Module 7: Oct. 7-9, 2016         Becoming a Leader: Standing in the Fire
Module 8: Nov. 10-14, 2016    Becoming a Practitioner
Location: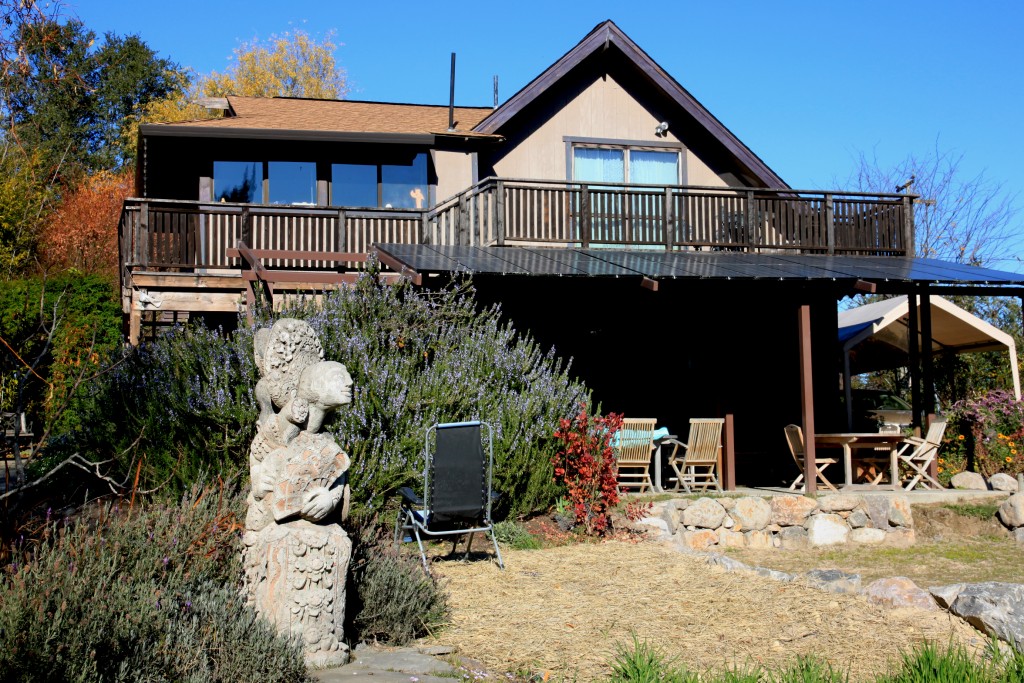 All workshops are at a beautiful retreat center between Occidental and Sebastopol, residing on 4 acres of beautiful gardens and forest with meandering trails through blackberry thickets and secret meadows. We create our own sacred space together on the land, both inside and outside. Plenty of room to move, to play, breathe, do yoga, paint, watch the sunset.
Meals:
The lunches on Saturday & Sunday are catered with yummy locally sourced and mostly organic meals, and a light self-serve breakfast is provided for campers on Sat & Sun. On Saturday during the dinner break local restaurants will be suggested, or feel free to bring your own food. There is a refrigerator and kitchen for our use, including all cookware and flatware.
Lodging:
Camping on the beautiful land under the stars is recommended, you may also choose to camp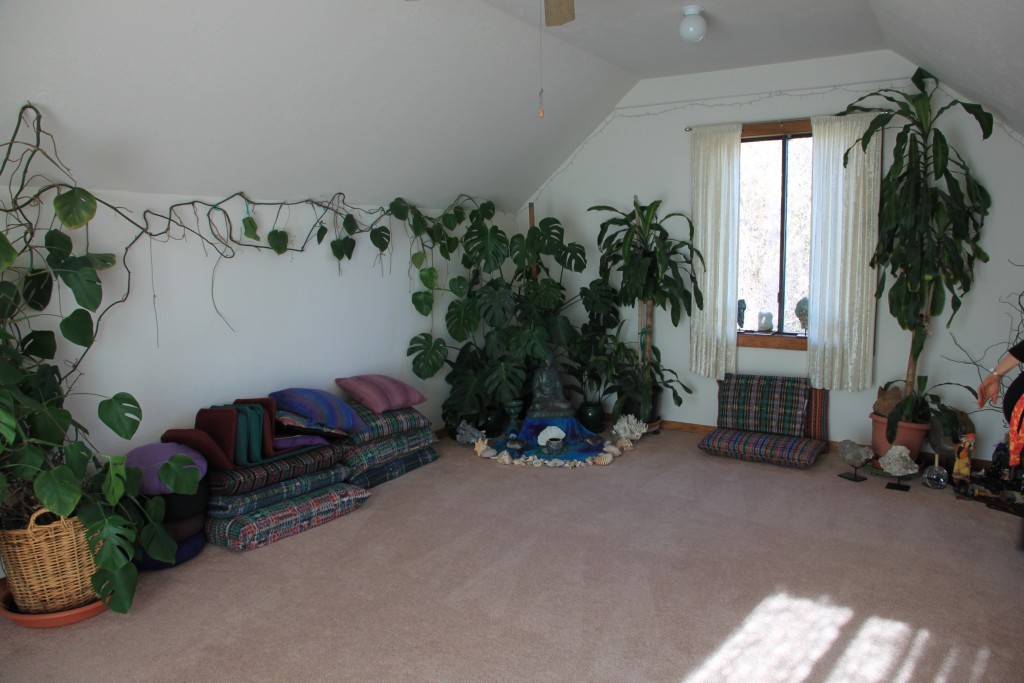 on the floor in the upstairs plant kingdom womb room or downstairs in the conference room. Residing on the premises for the duration of the workshop is a wonderful way of creating a level of safety for going deeper into your own process, away from your daily life and usual dynamics and connections, and can accelerate opening by remaining continually in sacred space you've set aside for yourself. Camping is $30/night and includes use of the hot tub and grounds after hours.  There is also a lovely hotel in Occidental just 5 minutes away for $119/night.
Times: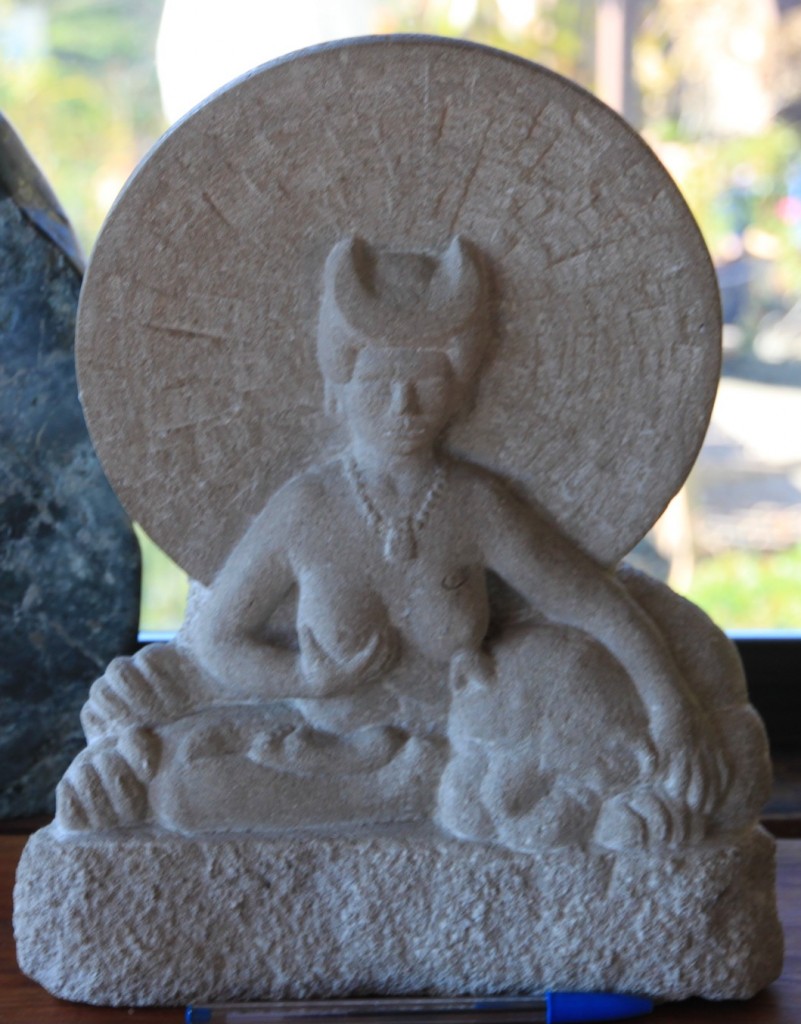 Modules 1 – 7 all follow similar schedules, beginning Friday evening at 5pm, all day Saturday, including an experiential after dinner session, and Sunday until 5pm.
Module 8 is a 5 day workshop intensive for practitioners only. It begins Thursday at 10am and runs through Sunday 5pm. It provides an intensive experience for plenty of practice with each other, feedback, and continuing to deeply work one's own process and healing journey.
Cost:
Modules 1 – 7 are each $425 ($395 early rate one month prior). Non-refundable deposit of $350 holds your spot at either rate. Includes delicious catered lunch & dinner Saturday & lunch on Sunday.

Package price: Register for entire program Modules 1-7 at the early rate by 8/14/15 and receive one weekly class for the year as a bonus for free! That's a value of $1,800! Weekly classes provide continuous support unfolding in your process and community connection. Early rate for the program is $2,765.
Module 8 Practitioners Intensive is $925 ($875 early by 10/13/16). Includes 10 delicious catered meals.

Package price: Module 8 Practitioners Intensive + One Year of Mentoring Practitioners Group Classes (12 total, $45 apiece) is $1,300 (save $115) at the early rate by 10/13/16.
Reviewers: Modules 1-7 $225 early rate (one month prior), $255 regular rate. Module 8 $595 ($550 early by 10/13/16).
Your Guides: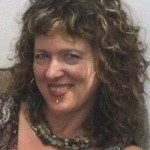 Mardi Storm is an Awake! Breathworker, Bodyworker & Artist, offering healing work for over 13 years, teaches transformational programs, and is devoted to a path of expanding consciousness. She is a published and public artist, and really enjoys igniting creativity in others, supporting their path of transformation and awakening.
Travis Wernet is a Dream Worker & Musician, professionally supporting others  for over 20 years, certified by the Marin Institute for Projective Dreamwork. He's also a trained Breathworker and professional musician. In addition to offering Dream Work and Sound Healing domestically and internationally, he has produced several cd's and is a published author, working on a full length book.